Most Popular Waterloo Titles

Hougoumont


Our Price: £9.95


A Waterloo Hero


Our Price: £19.99


Waterloo: The French Perspective


Was: £25.00




Our Price: £20.00


Marshal Ney


Our Price: £12.99


Waterloo


Our Price: £9.95


Dragon Rampant


Our Price: £25.00


Wellington's Voice


Our Price: £25.00


Tales from the Rifle Brigade


Our Price: £12.99


Waterloo 1815 Quatre Bras and Ligny


Our Price: £12.99


Wellington at Waterloo


Our Price: £14.99


Waterloo


Our Price: £12.99


Waterloo Commanders


Our Price: £19.99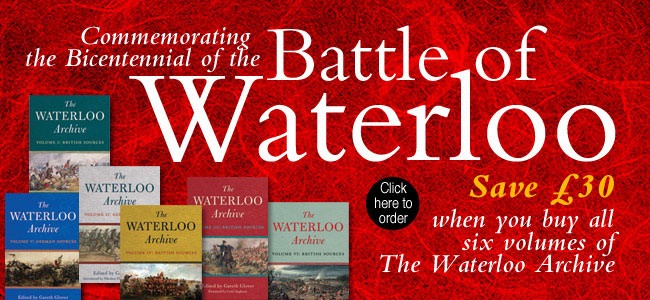 Was: £16.99




Now: £12.99

1st Liebstandarte – Over 10,000 YouTube views

A promotional trailer for Battlefield History TV's 1st Leibstandarte – Adolf Hitler SS Panzer Division DVD has passed over 10,000 views on the Pen and Sword YouTube channel.

The elite Leibstandarte – possibly the most famous of Hitler's SS panzer divisions – is the subject of considerable fascination and study. This film, written and presented by established historians and battlefield tour guides, will strip away layers of myth and take the viewers to the places where the SS fought the British, Americans and Canadians in one of the most costly battles of the Second World War.

You can view the trailer here.

Secret Wings of WWII


Was: £25.00




Now: £15.99


Air War Normandy


Was: £12.99




Now: £10.39


The Battle of Jutland


Was: £12.99




Now: £10.39


T. E. Lawrence and the Red Sea Patrol


Was: £19.99




Now: £15.99


Hitler's Violent Youth


Was: £25.00




Now: £20.00


The Zeebrugge & Ostend Raids 1918


Was: £12.99




Now: £10.00


Nursing Through Shot & Shell


Was: £19.99




Now: £15.99


Hitler's Propaganda Pilgrimage


Was: £14.99




Now: £11.99


Tracing Your Welsh Ancestors


Was: £14.99




Now: £11.99


The Silent Attack


Was: £30.00




Now: £24.00


Voices From the Past: Channel Islands Invaded


Was: £19.99




Now: £15.99


Battlefields in Miniature


Was: £30.00




Now: £24.00



Our Price: £19.99

From Pole to Pole

18 June 1928

Norwegian explorer of polar regions Roald Amundsen disappears during a rescue mission. He and five companions took off from Tromso on a search and rescue flight for the missing airship Italia and were never seen again.

Amundsen (1872-1928) was the most successful polar explorer of his era using sledges, dogs, skis and ships. He is mainly remembered for being the first man to reach the South Pole on 14 December 1911. What is less often remembered is that he was also the first man to reach the North Pole on 12 May 1926 as the leader of the Amundsen-Ellsworth-Nobile expedition in the airship Norge. His involvement in aviation from 1909 to his death in 1928, has not been the subject of a detailed study until now.




Our Price: £19.99

Operation Barbarossa and the Eastern Front 1941

22 June 1941

Operation Barbarossa is the name given to the German invasion of the Soviet Union, a turning point of the the Second World War and the largest invasion in the history of warfare. It began on 22 June 1941, when over 4.5 million troops from the Axis powers marched across a stretch of land over 1,800 miles long to deliver what they thought would be a resounding blow to Soviet power.

After enjoying success after success and securing the capture of over 3 million Soviet troops, many of whom died in Nazi work camps, the German-led assault was eventually curtailed and repulsed by a mixture of Russian determination, abhorrent winter conditions and over extended lines of communication.

A full list of titles covering Russia and the Eastern Front during the Second World War can be found here.

New Waterloo Titles for 2015

On the Fields of Glory


Was: £25.00




Now: £20.00


Waterloo Lectures


Was: £25.00




Now: £20.00


Waterloo: The French Perspective


Was: £25.00




Now: £20.00


Waterloo Letters


Was: £25.00




Now: £20.00


Memoirs of Baron von Müffling


Was: £30.00




Now: £20.00


From Corunna to Waterloo


Was: £25.00




Now: £20.00


1815: The Return of Napoleon


Was: £25.00




Now: £20.00


Voices from the Past: Waterloo 1815


Was: £25.00




Now: £20.00