Selected WW1 Picks – Click the Banner Above to View the Entire Catalogue

The Zeppelin


Was: £30.00




Our Price: £24.00


Fatal Fortnight


Was: £25.00




Our Price: £20.00


Somme 1916


Was: £30.00




Our Price: £24.00


Naval Battles of the First World War


Was: £14.99




Our Price: £7.00


Allied Railways of the Western Front – Narrow Gauge in the Arras Sector


Was: £30.00




Our Price: £24.00


Walking the Western Front 1914 – First Battle of Ypres Messines and Menin Road


Was: £16.99




Our Price: £13.50


The Great War Illustrated 1915


Was: £25.00




Our Price: £20.00


Second Ypres 1915


Was: £16.99




Our Price: £13.50


Warships of the Great War Era


Was: £25.00




Our Price: £20.00


The British at First and Second Ypres


Was: £14.99




Our Price: £11.99


Visiting the Fallen – Arras Memorials


Was: £25.00




Our Price: £20.00


The North Irish Horse in the Great War


Was: £25.00




Our Price: £20.00



Was: £12.99




Now: £10.39

Somme Centenary Ballot

To mark the Centenary of the Battle of the Somme on 1 July 2016, a national commemorative event will be held at the Commonwealth War Graves Commission Thiepval Memorial in Northern France.

This will be a ticketed event; the ballot for tickets opened on 28 September 2015 and will close on 18 November 2015. To register your interest or for more information, visit the official website, Somme2016.org.

Visiting the Somme and Ypres Battlefields Made Easy is a helpful guide book intended for those planning and leading school groups and similar parties but also ideal for individual/family visitors.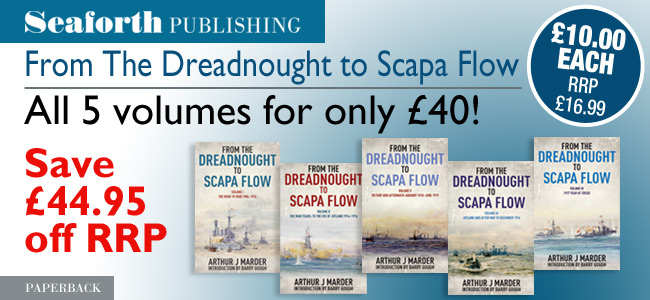 Was: £25.00




Now: £20.00

Lost Wings of WWI

12 October 1915: Edith Cavell executed by German firing squad

Edith Cavell was a British nurse who served in Belgium during the Great War. She was arrested and found guilty of treason after helping Allied airmen to escape German-occupied territory, and subsequently sentenced to death by firing squad. Her execution received worldwide condemnation and extensive press coverage.

Martin Bowman dedicates an entire chapter of Lost Wings of WW1 to the Norfolk heroine. Her story is also covered in Ann Kramer's Women Wartime Spies, where she examines the reality of life for a woman spy, operating behind enemy lines.




Was: £25.00




Now: £20.00

Gordon Welchman

8 October 1985: Gordon Welchman dies

Gordon Welchman was one of Bletchley Park's most important figures. Like Turing, his pioneering work was fundamental to the success of the Park and helped pave the way for the birth of the digital age. Yet, his story is largely unknown to many. His book, The Hut Six Story, was the first to reveal not only how they broke the codes, but how it was done on an industrial scale. Its publication created such a stir in GCHQ and the NSA that Welchman was forbidden to discuss the book or his wartime work with the media.

After the war, Welchman moved to the States and taught the first computer course at MIT. He retired in 1971 and died in 1985.

A recent BBC documentary and exhibition at Bletchley Park were based on Dr Joel Greenberg's biography, Gordon Welchman.

Super Thursday Releases – 20% off RRP

Evolution of Airborne Operations 1939 – 1945


Was: £25.00




Now: £20.00


Nine Divisions in Champagne


Was: £25.00




Now: £20.00


A Goldstar Century


Was: £25.00




Now: £20.00


John George Haigh, the Acid-Bath Murderer


Was: £12.99




Now: £10.39


Rails Across Canada


Was: £25.00




Now: £20.00


Luck of a Lancaster


Was: £14.99




Now: £11.99


Flight Craft 8: Mikoyan MiG-31


Was: £16.99




Now: £13.50


Hitler's Artillery 1939 � 1945


Was: £14.99




Now: £11.99


The British Carrier Strike Fleet


Was: £35.00




Now: £28.00


The Fallen Few of the Battle of Britain


Was: £19.99




Now: £15.99


Weymouth, Dorchester & Portland in the Great War


Was: £12.99




Now: £10.00


Irishmen in the Great War


Was: £19.99




Now: £15.99
Latest eBook Price Reductions

Tracing Your Birmingham Ancestors


Was: £14.99




Now: £6.00


Auschwitz – The Nazi Solution


Was: £12.99




Now: £5.20


The Battles of French Flanders


Was: £14.99




Now: £6.00


Tracing Your Trade and Craftsman Ancestors


Was: £14.99




Now: £6.00