February's most popular titles
The Art of Sword Combat

This manuscript, discovered in Sweden, is illustrated with watercolour images and ink diagrams. Covers combat with the longsword, dusack, and rapier. The theoretical discussion of guards is one of the most critical passages to understanding this key feature of the historical practice, not just in relation to Meyer but in relation to the medieval combat systems in general.

Our Price: £15.99

RRP: £19.99

Battleground Verdun – The Left Bank

This new and enthralling study is the first detailed work in English of a largely unknown period of the Battle of Verdun. It considers the background to the battle and casts light on the first three critical months of fighting there. It explains the decision to change the original German plan for the Verdun offensive and extend the action to the Left Bank of the River Meuse.

Our Price: £10

RRP: £12.99

Angel Meadow

As seen in The Independent.

In this shocking book, journalist Dean Kirby takes readers on a hair-raising journey through the gin palaces, alleyways and underground vaults of this nineteenth century Manchester slum considered so diabolical it was re-christened 'hell upon earth' by Friedrich Engels.

Our Price: £10

RRP: £14.99

Jutland – The Naval Staff Appreciation

The first attempt to produce an objective record of the Battle of Jutland was delayed and heavily censored, but this was followed by a more ambitious scheme to write a no-holds-barred critique of the fleet's performance for use in training future officers at the Naval Staff College. This became the now infamous Naval Staff Appreciation, which was eventually deemed too damaging, its publication cancelled and all proof copies ordered destroyed. However, despite the orders, a few copies survived, and transcribed from one of them this long-hidden work is here revealed for the first time.

Our Price: £20

RRP: £25

French Army at Verdun

For the French, the Battle of Verdun, fought between February and December 1916, was one of the greatest battle of the Great War, which makes this selection of contemporary photographs Ian Sumner has collated so important and revealing. They show the strained, sometimes shocked faces of the soldiers, record the shattered landscape in which they fought, and give us an insight into the sheer intensity of the fighting.

Our Price: £11.99

RRP: £14.99

Ship Models from Kits

In the past 30 years the world of model kits has undergone a veritable revolution. New materials have prompted innovative techniques, which are comprehensively demonstrated in this new manual. Written by a highly experienced, award-winning ship modeller, the book is a showcase for the contemporary approach to the hobby.

Our Price: £14.99

Gloster Javelin

The Gloster Javelin was the RAF's only delta-winged fighter and Britain's first true all-weather fighter. Based in the UK and Germany, the RAF's Javelin squadrons formed the front line of Britain's air defences in the late 1950s and early 1960s. In this history, which is richly illustrated with many previously unpublished photographs, Michael Napier blends official records with personal accounts to describe the operational history of this iconic jet fighter.

Our Price: £20

RRP: £25

Narrow Gauge in the Arras Sector

This book refers to previous works on British War Department light railways in WW1, but contains sufficient general information for readers new to the subject. It also describes how to find key locations now, and how and where rolling stock can be seen. Six walks and an urban tour are included for those who wish to explore the territory in greater depth.

Our Price: £30

The Jutland Scandal

In 1925 Admiral Bacon producing his own account of the Battle of Jutland, The Jutland Scandal. Two years later the man instructed to write the official report, Rear-Admiral Harper, decided to publish his account independently, under the title The Truth About Jutland. Together, these two books lay bare the facts about Jutland and reveal the failings of senior officers and the distortions of the early historians. Produced as one volume for the first time, this book tells the truth about the scandal that developed following the largest battle ever fought at sea.

Our Price: £20

RRP: £25

The Royal Arsenal Railways

Mark Smithers has written a number of definitive books and magazine features on the history of locomotive construction and the development of narrow gauge railways. This book looks at the history and development of railways at the Royal Arsenal Woolwich, which evolved from humble roots in the 1820s into three separate railway systems, serving the Gun Factory, Laboratory and Carriage Department.

Our Price: £24

RRP: £30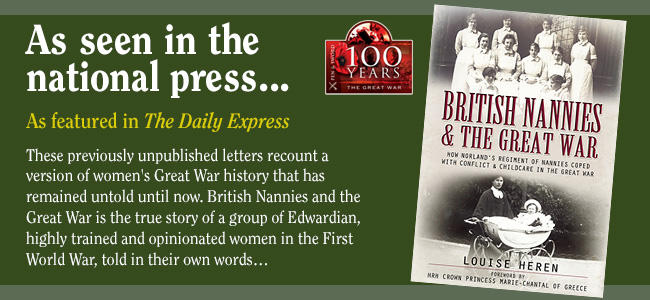 This week's bestsellers
Verdun: Fort Douaumont
Voices From Jutland
Fort Vaux
Touring the Italian Front

Our Price: £12.99

Our Price: £15.99

RRP: £19.99


Our Price: £12.99

Our Price: £9.95
HMS Cavalier: Destroyer 1944
The British Battleship
Walking Verdun
A French Soldier's War Diary 1914-1918

Our Price: £14.99

Our Price: £45

RRP: £14.99


Our Price: £12.99

Our Price: £19.99
Military Book of the Year?
Huge congratulations are in order for two Pen and Sword authors, whose books have made the shortlist for the British Army Military Book of the Year: The Jihadist Threat by Paul Moorcraft and The Men Behind Monty by Richard Mead.
| | | | | |
| --- | --- | --- | --- | --- |
| | The Jihadist Threat | | The Men Behind Monty | |
| | Our Price: £19.99 | | Our Price: £25 | |
Inside Out

Our Price: £12.99
Featured as part of a BBC television documentary earlier this week, the story of Squadron Leader Peter Stevens, a German-Jewish RAF pilot who bombed Berlin and became a POW.

Peter Stevens escaped Nazi persecution as a teenager in 1933. He joined the RAF in 1939 and after 18 months of pilot training he started flying bombing missions against his own country. He completed 22 missions before being shot down and taken prisoner by the Nazis in September 1941. To escape became his raison d'être. He was recaptured after each of his several escapes, but the Nazis never realised his true identity. He took part in the logistics and planning of several major breakouts, including The Great Escape, but was never successful in getting back to England. After liberation, when the true nature of his exploits came to light, he was awarded the Military Cross. He then served as a British spy at the beginning of the Cold War before emigrating to Canada to resume a normal life.
Latest releases
The Campaign of Waterloo
Fix Bayonets!
Napoleon's Mercenaries
Napoleon's Campaign In Poland 1806-1807

Our Price: £15.99

RRP: £19.99


Our Price: £15.99

RRP: £19.99


Our Price: £20

RRP: £25


Our Price: £20

RRP: £25