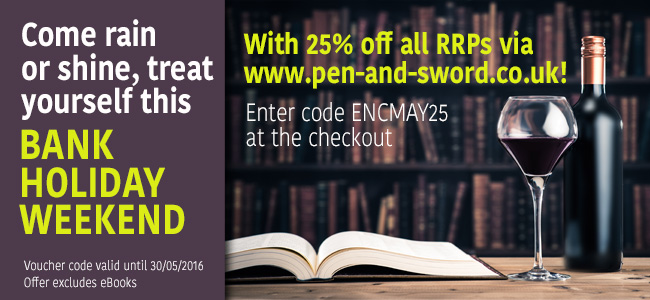 Recommended reads – use code ENCMAY25 for 25% off RRPs
Beyond the Chindwin
A Sniper's Conflict
British Battleships of World War One
Churchill's Anchor

Our Price
£14.99

Our Price
£19.99

Our Price
£45.00

Our Price
£14.99
Air Gunner
Air War Normandy
Afghanistan Revealed
Falklands Hero

Our Price
£25.00

Our Price
£12.99

Our Price
£25.00

Our Price
£19.99
Thunderer
Warspite
Carve Her Name With Pride
Brutus of Troy

Our Price
£25.00

Our Price
£14.99

Our Price
£12.99

Our Price
£19.99
Churchill in the trenches

Our Price
£15.99
RRP:

£19.99

Described as the most unusual and absorbing account of Winston Churchill's experiences serving as a soldier during the Great War that has ever been told, With Winston Churchill at the Front has been making news this month with stories featured in The Times, The Daily Mirror and The Daily Mail.

The book is an account written by Captain Andrew Dewar Gibb – who formed a close relationship with Churchill that lasted far beyond their few weeks together in the war – of his and Churchill's time together in the trenches. Packed with amusing anecdotes and fascinating detail, Gibb's story shows an entirely different side to Churchill's character from the forceful public figure normally presented to the world.
Suggested summer reads: the Battle of the Somme
Britain's Last Tommies
Tracing British Battalions on the Somme
Happy Odyssey
Attack on the Somme

Our Price
£19.99

Our Price
£14.99

Our Price
£14.99

Our Price
£16.99
Missing But Not Forgotten
Tracing Your Great War Ancestors: The Somme
Somme Success
The Hell They Called High Wood

Our Price
£25.00

Our Price
£12.99

Our Price
£12.99

Our Price
£14.99
Great Push On The Somme 1916
Pals on the Somme 1916
The Germans on the Somme
Twelve Days on the Somme

Our Price
£16.99

Our Price
£12.99

Our Price
£14.99

Our Price
£12.99
© Pen and Sword Books Limited 2016. Registered in England No. 2527258
Registered Office: 47 Church Street, Barnsley, S70 2AS.