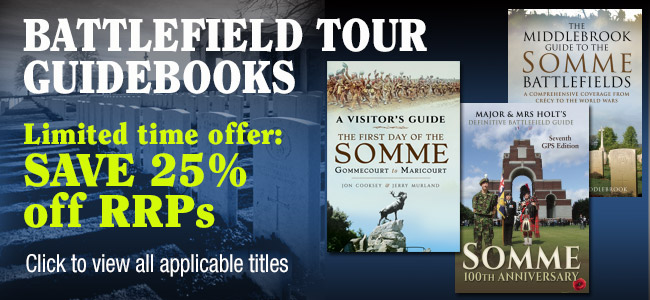 Major & Mrs Holt's Definitive Battlefield Guide Somme: 100th Anniversary
The Middlebrook Guide to the Somme Battlefields
Passchendaele
Major & Mrs Holt's Battlefield Guide to Ypres Salient & Passchendaele

Our Price
£12.74
RRP:

£16.99


Our Price
£11.24
RRP:

£14.99


Our Price
£7.49
RRP:

£9.99


Our Price
£12.74
RRP:

£16.99

Anzio
Walking the Somme – Second Edition
Crete
Major & Mrs. Holt's Concise Illustrated Battlefield Guide – The Western Front – North

Our Price
£9.74
RRP:

£12.99


Our Price
£9.74
RRP:

£12.99


Our Price
£12.74
RRP:

£16.99


Our Price
£12.74
RRP:

£16.99

Le Cateau
Walking Verdun
Operation Goodwood
Cassino

Our Price
£11.24
RRP:

£14.99


Our Price
£9.74
RRP:

£12.99


Our Price
£9.74
RRP:

£12.99


Our Price
£7.49
RRP:

£9.99
Coming soon, available to preorder now

Our Price
£11.24
RRP:

£14.99

A Visitor's Guide: The First Day of the Somme – Gommecourt to Maricourt

Many guidebooks cover the Somme offensive in 1916, but no previous guide has concentrated solely on the first day, 1 July 1916, when the British Army suffered around 60,000 casualties. That is why, on the centenary of that great battle, this new volume is so timely.

In a series of tours that can be walked, biked or driven, expert authors Jon Cooksey and Jerry Murland take the visitor along the 18-mile front line that was the starting point for the Somme offensive, from Gommecourt in the north to Maricourt in the south. The tours allow the visitor to trace the entire course of the opening day on the ground. In vivid detail the authors describe what happened, where it happened and why and which units were involved, and point out the sights that remain for the visitor to see.
Rails Across Australia
Flight Craft 10: Mil' Mi-6/-26
Women of the 1960s

eBook Price
£15.00

eBook Price
£10.19

eBook Price
£11.99
The German Army on Campaign 1914 – 1918
The Case of the Chocolate Cream Killer
Stockport in the Great War

eBook Price
£8.99

eBook Price
£7.79

eBook Price
£5.99
The battle that won the war
A new exhibition about the Battle of Jutland will open its doors on Thursday, 19 May at the National Museum of the Royal Navy, Portsmouth ahead of the battle's centenary anniversary on 31 May.

Entitled '36 Hours: Jutland 1916, The Battle That Won The War', the new exhibition highlights the essential role of the British Royal Navy winning the First World War's greatest naval battle.

More information about the battle, the exhibition and how to book tickets can be found on www.Jutland.org.uk, along with a video animation and interactive battle map.
The Battle of Jutland – latest releases
The Kaiser's Battlefleet
Skagerrak
Shipcraft 22: German Battlecruisers
Jutland – The Unfinished Battle

Our Price
£28.00
RRP:

£35.00


Our Price
£20.00
RRP:

£25.00


Our Price
£11.99
RRP:

£14.99


Our Price
£20.00
RRP:

£25.00

Jutland: The Naval Staff Appreciation
Voices From Jutland
The Jutland Scandal
British and German Battlecruisers

Our Price
£20.00
RRP:

£25.00


Our Price
£15.99
RRP:

£19.99


Our Price
£20.00
RRP:

£25.00


Our Price
£32.00
RRP:

£40.00
© Pen and Sword Books Limited 2016. Registered in England No. 2527258
Registered Office: 47 Church Street, Barnsley, S70 2AS.