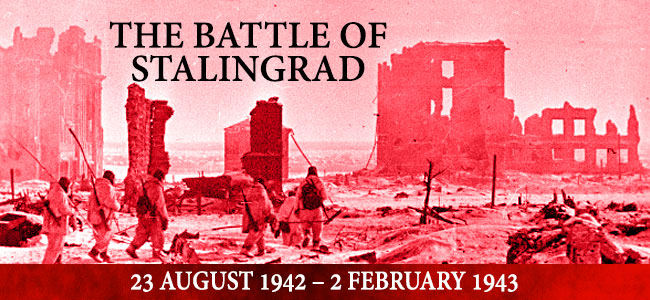 Stalingrad – most popular titles
After Stalingrad
Blood Red Snow
Red Road From Stalingrad
Stalingrad

Our Price
£19.99

Our Price
£13.99

Our Price
£19.99

Our Price
£14.99
Disaster at Stalingrad
Survivors of Stalingrad
Front-Line Stalingrad
Guns Against The Reich

Our Price
£19.99

Our Price
£25.00

Our Price
£12.99

Our Price
£19.99
Stalingrad
Stalingrad Day by Day
From Stalingrad to Berlin
Stalingrad to Kursk

Our Price
£19.99

Our Price
£19.99

Our Price
£16.99

Our Price
£19.99
Spitfire Mk Vb AB910 is 75 years old!

Our Price
£19.99
After being built at the Castle Bromwich Aeroplane Factory in 1941, the brand new Spitfire Mk Vb AB910 was delivered on 22 August to its first RAF unit, No 222 Squadron at North Weald, 75 years ago. In August 1941, AB910 was engaged in offensive fighter patrols with RAF Fighter Command as it went on the offensive against the Luftwaffe.

AB910 completed 143 'ops' in almost three and a half years of war fighting, and after 75 years, this D-Day veteran is still flying in RAF hands, wearing the colour scheme of Flight Lieutenant Tony Cooper's 64 Squadron Spitfire Mk Vb on D-Day.

For more details and to see AB910 in action, visit the RAF Memorial Flight blog.
WW2 latest releases and bestsellers
The RAF Regiment at War 1942-1946
The Knights of Bushido
Fighter Command's Air War 1941

Our Price
£15.99
RRP:

£19.99


Our Price
£13.59
RRP:

£16.99


Our Price
£20.00
RRP:

£25.00

If Britain Had Fallen
Holocaust Heroes
The Reconstruction of Warriors

Our Price
£11.99
RRP:

£14.99


Our Price
£15.99
RRP:

£19.99


Our Price
£10.39
RRP:

£12.99

Jock Lewes: Co founder of the SAS
Above the Battle
The Hitler Conspirator

Our Price
£14.99

Our Price
£20.00
RRP:

£25.00


Our Price
£15.99
RRP:

£19.99
Author flies Spitfire at Biggin Hill

Our Price
£15.99
RRP:

£25.00

Author and former Pilot Officer RAFVR Miles Macnair flew in a Spitfire at Biggin Hill earlier this week, to commemorate Lady Lucy Houston DBE's greatest legacy.Macnair, whose biography of Lucy Houston was released earlier this month, described the experience as the 'thrill of a lifetime' and remarked on the 'perfect weather'.

Lucy's financial support funded the 1931 Schneider Trophy Race as well as the Houston-Mount Everest Expedition of 1933. This funding had a crucial bearing on the development of the Merlin engine and the Spitfire aircraft, essentially kick starting the chain of events that would ultimately end in Allied victory during the Battle of Britain.

For more information about Biggin Hill Heritage Hangar and the Spitfire experiences they can offer, click here.
© Pen and Sword Books Limited 2016. Registered in England No. 2527258
Registered Office: 47 Church Street, Barnsley, S70 2AS.