Born of the Desert


Was: £14.99




Now: £12.00


Men of the Battle of Britain


Was: £60.00




Now: £40.00


A Handful of Heroes, Rorke's Drift


Was: £19.99




Now: £15.99


Nelson's Band of Brothers


Was: £25.00




Now: £20.00


HMS Cavalier: Destroyer 1944


Was: £14.99




Now: £11.99


Japanese Battleships 1897–1945


Was: £25.00




Now: £20.00


The End of Empire


Was: £19.99




Now: £15.99


The Frigate HMS Trincomalee 1817


Was: £14.99




Now: £11.99


Despatch Rider on the Western Front 1915–1918


Was: £19.99




Now: £15.99


Nelson's Victory


Was: £30.00




Now: £24.00


Nursing Through Shot & Shell


Was: £19.99




Now: £15.99


Early Ships and Seafaring: Water Transport Beyond Europe


Was: £19.99




Now: £15.99
This Month's Latest Releases – 20% off RRP

Final Wicket


Was: £30.00




Now: £20.00


T. E. Lawrence and the Red Sea Patrol


Was: £19.99




Now: £15.99


Hitler's Violent Youth


Was: £25.00




Now: £20.00


American Eagles


Was: £14.99




Now: £11.99


British Buses 1967


Was: £25.00




Now: £20.00


Voodoo Warriors


Was: £19.99




Now: £13.50


Lost Honour, Betrayed Loyalty


Was: £25.00




Now: £15.99


Tornado Over the Tigris


Was: £25.00




Now: £20.00


The Battle for Burma


Was: £25.00




Now: £20.00


Voices in Flight: Daylight Bombing Operations 1939 – 1942


Was: £25.00




Now: £20.00


Red Star Against the Swastika


Was: £12.99




Now: £10.39


Operation Epsom – Over the Battlefield


Was: £14.99




Now: £11.99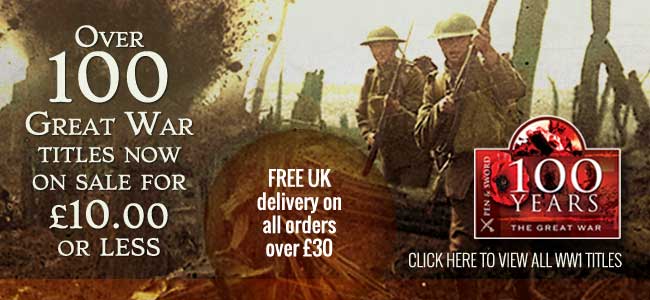 Was: £9.99




Now: £4.99

30 July 1915 – the Battle of Hooge

In Flanders, Belgium, on 30 July 1915, the Germans put their new weapon, the flammenwerfer, or flamethrower, to devastating use against the Allies at the Battle of Hooge. The Battle of Hooge represented one of the first major employments of the flamethrower, one of the most feared weapons introduced during the First World War.

In Sanctuary Wood and Hooge (currently available in eBook only), Battleground Europe series editor Nigel Cave takes the reader on an explanatory tour of the immediate area. Included is a description of the museum at Hill 62 with its trench system, stereoscopic photos and weapons.



Our Price: £9.99

31 July 1917 – the Battle of Passchendaele

The Third Battle of Ypres, known as the Battle of Passchendaele, became infamous not only for the scale of casualties, but also for the terrible conditions in which it was fought.

The British offensive got underway on 31 July 1917, with the objective of capturing fifteen miles of territory. The attack quickly lost momentum and, it was not until finally in November that the line managed to advance seven miles. With winter setting in, the British troops were subjected to some of the worst conditions they had ever faced. During the attack 265,000 were either killed or injured.

This battlefield guide gives details of the attacks whilst guiding the reader through the battlefield as it stands today. With illustrated maps and then and now photographs it will appeal to those visiting the area as well as armchair historians.

The London Underground Serial Killer


Was: £12.99




Our Price: £0.99


Battle of the River Plate


Was: £19.99




Our Price: £4.99


Hitler – A Life in Pictures


Was: £14.99




Our Price: £6.00


The Roman Wars In Spain


Was: £19.99




Our Price: £11.99


Blood and Steel


Was: £19.99




Our Price: £4.99


Painting Wargaming Figures


Was: £16.99




Our Price: £10.19


Secret Wings of WWII


Was: £25.00




Our Price: £15.00


World War I 1914-1918


Was: £4.99




Our Price: £0.99



Was: £12.99




Now: £10.39

The Sinking of RMS Tayleur

The Sinking of RMS Tayleur author Gill Hoffs will feature in tonight's episode of the BBC 2 series, Coast, at 8pm.

In tonight's episode, Cassie Newland and Miranda Krestovnikoff join forces – on land and underwater – to investigate a shipwreck mystery to rival the Titanic's. RMS Tayleur was heralded as the fastest, safest, most advanced vessel of her day. But this iron-hulled ship sank on her maiden voyage with horrific loss of life. Gill and the Coast team uncovers why she sank, why she veered so drastically off course, and why so many women and children died compared with men.

The Sinking of RMS Tayleur is available now in hardback, paperback, Kindle and ePub formats.