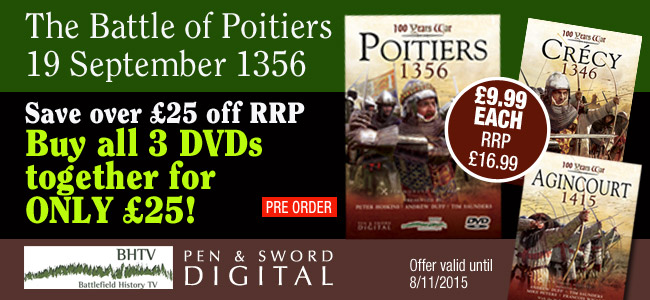 Was: £16.99




Now: £9.99

100 Years War: Poitiers 1356

On 19 September 1356 the French encounter the rearguard of the English Army, Edward and his generals are planning to retreat but they see a chance to strike. The battle that ensues is both bloody and decisive. By the end of the day a large part of the aristocracy France was dead, dying or prisoner including King John II. The Anglo/Gascon army was enriched beyond its wildest dreams with the ransoms that would be paid.

This campaign, conducted by Edward the Prince of Wales, was a masterpiece of strategic warfare. In 3 months the Anglo/Gascon had carried out a devastating campaign of economic warfare that undermined the French State and destroyed the wealth of a major area of France. The final gloss on the campaign was the victory battle and the capture of the French King.





Was: £16.99




Now: £9.99

100 Years War: Agincourt 1415

On 25 October 1415, Henry V's small and dispirited Anglo/Welsh Army destroyed a vast French Army at Agincourt. This programme looks at not just this iconic battle immortalised by Shakespeare and many other authors, but the campaign that led up to this final great English victory of the 100 Years War when the Yeoman of England reigned supreme on the field of battle.

Unlike the Crécy campaign of his great grandfather, Edward III, this campaign nearly ended in disaster. England had been weakened by civil war and plague. Henry's English Army did not have the experience and leadership of that of his great grandfather however it despite its weaknesses it still was to prove superior to the over proud French Army riven with jealousy and pride.





Was: £16.99




Now: £9.99

100 Years War: Crecy 1346

On 11 July 1346 the Anglo/Welsh army of Edward III started to disembark in the bay at St Vaast in the Cotentin Peninsula. Over a period of 12 months, this army won three major battles: Caen, Blanchtaque and Crécy and captured Calais, which would remain in English hands until 1558 – a thorn in the side of France. This campaign was the first major chapter in the story of the Anglo-French conflict that was later called the 100 years War.

This campaign is not only notable for the military victories of Edward and his army but for the way it reshaped warfare on the continent, the English arrived as a major military player on the international stage of medieval Europe.

This free article via Warfare Magazine details the battle.






Byzantium Triumphant


Was: £19.99




Now: £15.99


London's Railways 1967 – 1977


Was: £25.00




Now: £20.00


Schindler's Krakow


Was: £12.99




Now: £10.39


French Warships in the Age of Sail 1786 – 1861


Was: £50.00




Now: £40.00


Fighting Nazi Occupation


Was: £19.99




Now: £15.99


German Artillery


Was: £12.99




Now: £10.39


Military History of Late Rome 284-361


Was: £30.00




Now: £24.00


First World War Trials and Executions


Was: £19.99




Now: £15.99


Before the Ironclad


Was: £40.00




Now: £32.00


Victoria Crosses on the Western Front – April 1915 to June 1916


Was: £30.00




Now: £24.00


A Tour of the Bulge Battlefields


Was: £14.99




Now: £11.99


The Fighting Pioneers: The Story of the 7th Battalion DLI


Was: £25.00




Now: £20.00


Japan's Gestapo


Our Price: £12.99


Slaughter at Sea


Our Price: £19.99


Guarding Hitler


Our Price: £19.99


Children of the Camps


Our Price: £19.99




Was: £25.00




Now: £20.00

Battle of Britain anniversary airshow

Dowding's Eagles author Norman Franks will join the Aviation Bookshop on their stand at the IWM Battle of Britain anniversary airshow this weekend at IWM Duxford.

Dowding's Eagles tells the stories of twenty-five survivors of the Battle of Britain and Norman Franks brings these stirring stories together. Each account describes the actions and impressions of the individuals who fought lonely battles against a numerically superior enemy.

The IWM Battle of Britain anniversary airshow is a sold out event, don't go along if you haven't already got your ticket!




Was: £60.00




Now: £48.00

Men of the Battle of Britain – Hatchards

Hatchards, Piccadilly are hosting an event this evening – 18 September – to commemorate the 75th anniversary of the Battle of Britain with Kenneth Wynn and in association with the Battle of Britain Memorial Trust.

The evening will feature talks from Richard Hunting CBE, chairman of the BBMT since 2000, Group Captain Patrick Tootal, Hon. Secretary of the BBMT since 1998 and Kenneth Wynn – author of Men of the Battle of Britain. It is also hoped that some veterans of the battle will also be able to attend.

This photograph was taken on Tuesday at St Paul's Cathedral, London, where a service was held to mark the 75th anniversary of Battle of Britain Day and balloons were released in honour of the Polish pilots who took part in the battle. Follow Pen & Sword on Instagram (@penswordbooks).

Please email events@hatchards.co.uk for information on attending.




Our Price: £19.99

An evening with Fergus Anckorn

On Monday, 21 September, Peter Fyans will present an evening with 96-year-old Second World War veteran Fergus Anckorn (photographed with Dan Jarvis MP), whose incredibly moving story is told in Captivity, Slavery and Survival as a Far East POW at Players Theatre, as part of the Hurst Festival.

Gus was a British soldier who was captured by the Japanese at the Fall of Singapore and held for over three and a half years. Before the war, Gus was a magician and throughout his time in captivity, entertained both fellow soldiers and Japanese guards with his tricks.

Full details available via the website: www.hurstfestival.org.