London Transport's Last Buses
Ian Fleming's Secret War
Nachtjagd, Defenders of the Reich 1940 – 1943
Gloucester in the Great War

Our Price: £15.99

RRP: £19.99


Our Price: £10

RRP: £12.99


Our Price: £20

RRP: £25


Our Price: £7.99

RRP: £9.99

The Campaigns of 1812 in Russia
British Submarines At War 1914 – 1918
Flight Craft 9: Avro Shackleton
French Army at Verdun

Our Price: £15.99

RRP: £19.99


Our Price: £10

RRP: £12.99


Our Price: £13.50

RRP: £16.99


Our Price: £11.99

RRP: £14.99

The Great War through Picture Postcards
The Jutland Scandal
Fortress Island Malta
Sailors on the Rocks

Our Price: £20

RRP: £25


Our Price: £20

RRP: £25


Our Price: £20

RRP: £25


Our Price: £15.99

RRP: £25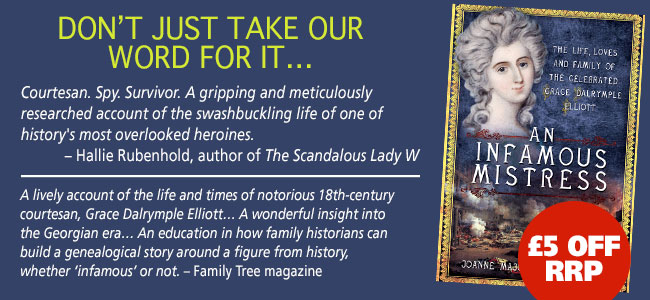 An Infamous Mistress

Our Price: £20
RRP: £25
As seen in Family Tree magazine.

Divorced wife, infamous mistress, prisoner in France during the French Revolution and the reputed mother of the Prince of Wales' child, notorious eighteenth-century courtesan Grace Dalrymple Elliott lived an amazing life in eighteenth- and early nineteenth-century London and Paris. Strikingly tall and beautiful, later lampooned as 'Dally the Tall' in Parisian gossip columns, she left her Scottish roots and convent education behind, to re-invent herself in a 'marriage à-la-mode', but before she was even legally an adult she was cast off and forced to survive on just her beauty and wits.

The authors of this engaging and, at times, scandalous book intersperse the story of Grace's tumultuous life with anecdotes of her fascinating family.

Read more on the authors' blog, All Things Georgian and look out for their article in the February issue of Family Tree.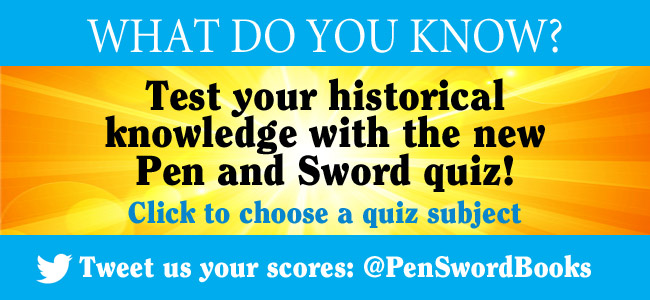 Popular titles this month
The Secret Capture
Donitz U-Boats Convoys
The Alexander Memoirs, 1940-1945
Lightning Up

Our Price: £10

RRP: £16.99


Our Price: £10

RRP: £20


Our Price: £10

RRP: £19.99


Our Price: £9

RRP: £25

The Historical Atlas of the British Isles
Escape from Arnhem
Camouflage
Panzer Commander

Our Price: £15

RRP: £25


Our Price: £8

RRP: £16.99


Our Price: £9

RRP: £19.99


Our Price: £10

RRP: £19.99

The Scourge of the Swastika
The Great Western Eight Coupled Heavy Freight Locomotives
Prussian Apocalypse
Walking the Western Front: Ypres, Part one

Our Price: £8

RRP: £12.99


Our Price: £20

RRP: £25


Our Price: £10

RRP: £19.99


Our Price: £9

RRP: £16.99
In the press

Our Price: £15.99
RRP: £19.99
British Concentration Camps – A Brief History from 1900-1975

For many of us, the very expression 'Concentration Camp' is inextricably linked to Nazi Germany and the horrors of the Holocaust. The idea of British concentration camps is a strange and unsettling one. It was however the British, rather than the Germans, who were the chief driving force behind the development and use of concentration camps in the twentieth century.

The operation by the British Army of concentration camps during the Boer War led to the deaths of tens of thousands of children from starvation and disease. More recently, slave-labourers confined in a nationwide network of camps played an integral role in Britain's post-war prosperity. In 1947, a quarter of the country's agricultural workforce were prisoners in labour camps.

This book tells the terrible story of Britain's involvement in the use of concentration camps, which did not finally end until the last political prisoners being held behind barbed wire in the United Kingdom were released in 1975. From England to Cyprus, Scotland to Malaya, Kenya to Northern Ireland; this book details some of the most shocking and least known events in British history.
War and Peace – further reading
If you have been enjoying the BBC's Sunday-night adaptation of War and Peace this month, you may be interested in some of these related titles.
| | | | | | | | | |
| --- | --- | --- | --- | --- | --- | --- | --- | --- |
| | Austerlitz | | Fighting For Napoleon | | With Napoleon's Guard in Russia | | The Battle of Borodino | |
| | Our Price: £19.99 | | Our Price: £19.99 | | Our Price: £19.99 | | Our Price: £14.99 | |