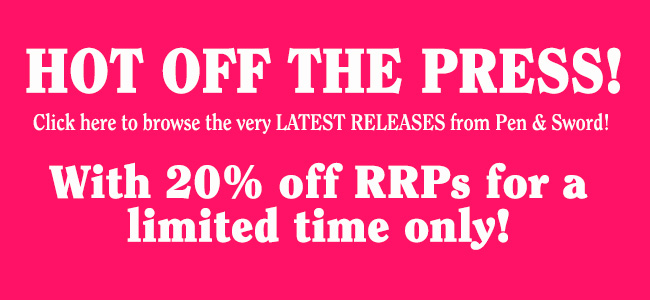 A selection of latest releases
The Grand Old Duke of York
SAS: Secret War
Conquerors of the Roman Empire: The Vandals
Wellington Against Soult

Our Price
£15.99
RRP:

£19.99


Our Price
£11.99
RRP:

£14.99


Our Price
£15.99
RRP:

£19.99


Our Price
£20.00
RRP:

£25.00

Railways and Industry in the Western Valley
Donald Dean VC
Unearthing Family Tree Mysteries
Rome Seizes the Trident

Our Price
£20.00
RRP:

£25.00


Our Price
£10.39
RRP:

£12.99


Our Price
£11.99
RRP:

£14.99


Our Price
£15.99
RRP:

£19.99

Guyasuta and the Fall of Indian America
Verdun 1916
Rebellion in the Ranks
Tracing Your Kent Ancestors

Our Price
£13.59
RRP:

£16.99


Our Price
£20.00
RRP:

£25.00


Our Price
£13.59
RRP:

£16.99


Our Price
£11.99
RRP:

£14.99
Click here to view all Latest Releases
The Railway
German Naval Camouflage Vol I: 1939-41

Our Price
£32.00
RRP:

£40.00

The late Andrew Dow's comprehensive history of the track used by railways of all gauges, tramways, and cliff railways, in Great Britain, recently named Transport History Book of the Year 2016 by the Railway & Canal Historical Society.


Our Price
£28.00
RRP:

£35.00

This volume covers German warship camouflage of destroyers and all larger ships during the early war years, colour illustrations of every scheme and variation for which evidence is available. Volume 2 is also available and covers the period 1942 – 1945.
Szkolnikoff
Bomber Harris: His Life and Times
The Second World War Through Soldiers' Eyes
Hitler's French Volunteers

Our Price
£15.99
RRP:

£19.99


Our Price
£15.99
RRP:

£25.00


Our Price
£15.99
RRP:

£19.99


Our Price
£15.99
RRP:

£19.99

From Calais to Colditz
The Eastern Front Air War 1941 – 1945
German Night Fighters Versus Bomber Command 1943-1945
Operation LUSTY

Our Price
£15.99
RRP:

£19.99


Our Price
£11.99
RRP:

£14.99


Our Price
£20.00
RRP:

£25.00


Our Price
£20.00
RRP:

£25.00
Now available in paperback!

Our Price
£13.59
RRP:

£16.99

The Pals battalions were a phenomenon of the Great War. In response to Kitchener's famous call for a million volunteers, local communities raised (and initially often paid for) entire battalions for service on the Western Front. Their experience was all too frequently tragic, as men who had known each other all their lives, had worked, volunteered, and trained together, and had shipped to France together, encountered the first full fury of modern battle on the Somme in July 1916.

Many of the Pals battalions would not long survive that first brutal baptism, but their spirit and fighting qualities have gone down into history – these were, truly, the cream of Britain's young men, and every single one of them was a volunteer. Barnsley Pals, written by historian Jon Cooksey, the first of the highly successful Pals series, is now released in paperback form in the 100th anniversary year of the Battle of the Somme.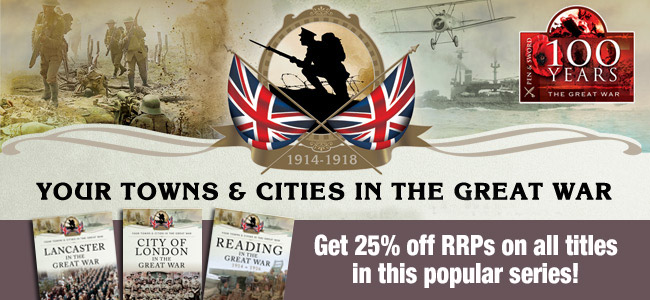 New series releases: Towns and Cities in the Great War
Keswick in the Great War
Lincoln in the Great War
Morpeth in the Great War

Our Price
£9.74
RRP:

£12.99


Our Price
£7.49
RRP:

£9.99


Our Price
£9.74
RRP:

£12.99
© Pen and Sword Books Limited 2016. Registered in England No. 2527258
Registered Office: 47 Church Street, Barnsley, S70 2AS.