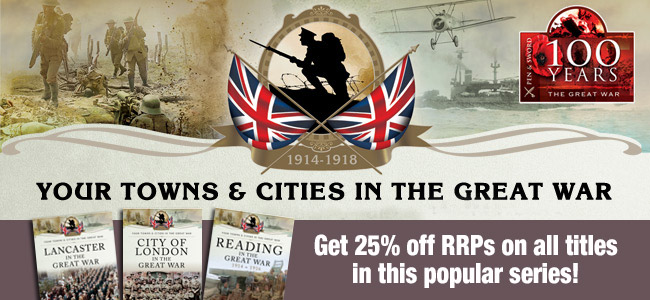 New and coming soon to the series
Reading in the Great War 1914-1916
Ludlow in the Great War
Lancaster in the Great War
Winchester in the Great War

Our Price
£9.74
RRP:

£12.99


Our Price
£9.74
RRP:

£12.99


Our Price
£7.49
RRP:

£9.99


Our Price
£7.49
RRP:

£9.99

City of London in the Great War
Salisbury in the Great War
Keswick in the Great War
Ipswich in the Great War

Our Price
£9.74
RRP:

£12.99


Our Price
£9.74
RRP:

£12.99


Our Price
£9.74
RRP:

£12.99


Our Price
£9.74
RRP:

£12.99

Morpeth in the Great War
Lincoln in the Great War
Northampton in the Great War
Leatherhead in the Great War

Our Price
£9.74
RRP:

£12.99


Our Price
£7.49
RRP:

£9.99


Our Price
£7.49
RRP:

£9.99


Our Price
£9.74
RRP:

£12.99
Fight the Good Fight offer
In Pursuit of the Essex
In a Guardsman's Boots
Historical Research Using British Newspapers
Flight from Colditz

eBook Price
£15.00

eBook Price
£15.00

eBook Price
£7.79

eBook Price
£11.99
Fix Bayonets!
Eyewitness on the Somme 1916
Angel Meadow
After Stalingrad

eBook Price
£11.99

eBook Price
£15.00

eBook Price
£8.99

eBook Price
£11.99
The Battlecruiser HMS Hood

Our Price
£19.99
This year marks HMS Hood's centenary as well as 75 years since her sinking in May 1941. On 1 September 1916 Hood's keel was laid down at the John Brown Works at Clydebank, near Glasgow. She was launched on 22 August 1918 by Lady Hood, widow of Sir Horace Hood who was lost at Jutland. On 24 May 1941, HMS Hood was sunk by the German Bismarck during the Battle of the Denmark Strait with the loss of 1,416 lives.

The ship's bell was recovered from the sea bed after more than 7 decades in August 2015. It has undergone restoration work and is due to be unveiled by HRH the Princess Royal, Princess Anne at the National Museum of the Royal Navy, Portsmouth on Thursday, 19 May during the opening of the new Jutland 1916 exhibition.

You can read more about HMS Hood's final battle in this free article from Warfare Magazine.
Tommy's Rose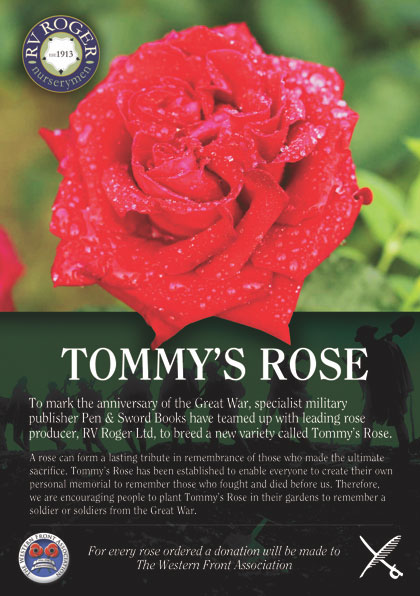 Before the poppy, the rose was the traditional flower of remembrance. To mark the anniversary of the Great War, Pen & Sword have teamed up with the Western Front Association and leading rose producer R V Roger Ltd to breed a new variety; Tommy's Rose.

The roses are now ready to be delivered, to order yours or for more information, email enquiries@tommysrose.co.uk or telephone 01226 743222. A donation will be made to the Western Front Association for each rose purchased.
© Pen and Sword Books Limited 2016. Registered in England No. 2527258
Registered Office: 47 Church Street, Barnsley, S70 2AS.