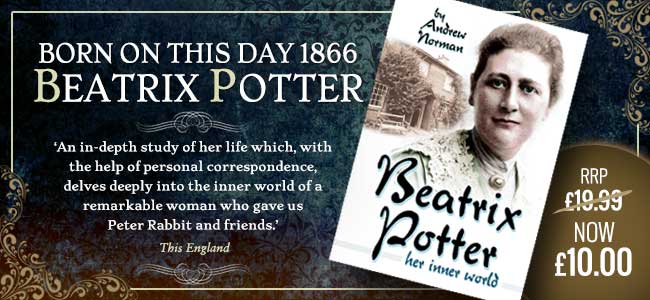 Limited time offer – half-price hardback

Our Price
£10.00
RRP:

£19.99

Beatrix Potter – Her Inner World

In this concise and insightful biography of beloved children's author Beatrix Potter, Andrew Norman seeks to answer questions such as how did her sheltered upbringing, her tense relationship with her parents and, critically, her chronic and debilitating illnesses, determine the development of her personality and her evolution as a writer?

Andrew Norman quotes extensively from Beatrix Potter's fluent and revealing letters, and traces the strong influences exerted by her family and by her love of animals and the countryside. As he describes her reaction to her childhood illness, he shows how she escaped from the pain and sorrow of the world by creating for herself another world – one to which only she had access.

Also available for Kindle and ePub download, priced £4.99 each.
13 Sharks
When the Moon Rises
Palestine
Roman Empire at War

Our Price
£15.99
RRP:

£19.99


Our Price
£13.59
RRP:

£16.99


Our Price
£15.99
RRP:

£19.99


Our Price
£15.99
RRP:

£19.99

The Red Baron
Holocaust Heroes
Veteran Lancs
British Armoured Car Operations in World War I

Our Price
£15.99
RRP:

£19.99


Our Price
£15.99
RRP:

£19.99


Our Price
£11.99
RRP:

£14.99


Our Price
£15.99
RRP:

£19.99

Betrayal of an Army
God's Generals
Mercenaries to Conquerors
Sagittarius Rising

Our Price
£20.00
RRP:

£25.00


Our Price
£15.99
RRP:

£19.99


Our Price
£20.00
RRP:

£25.00


Our Price
£11.99
RRP:

£14.99

Our Price
£20.00
RRP:

£25.00

The Extinguished Flame – Olympians Killed in the Great War

In August 2016 the world will be spellbound by the Olympic Games in Rio de Janeiro as 10,500 athletes from 206 countries compete in 306 events. Tracing their origins back to the Greeks in 776 BC, the history of the Olympics is a glorious one but it has had its darker moments.

During the First World War no fewer than 135 Olympians perished. Many had won Gold, Silver and Bronze medals. They came not just from the UK, Germany, France, USA but from all over the globe. Each Olympian, who made the supreme sacrifice, is honoured in this magnificent book by a summary of their life, sporting achievement and manner of their death.
More titles by Nigel McCrery
Final Wicket
Into Touch

Our Price
£24.00
RRP:

£30.00


Our Price
£25.00
The Guinea Pig Club – 75 years on

Our Price
£10.39
RRP:

£12.99

The Reconstruction of Warriors – Archibald McIndoe, the Royal Air Force and the Guinea Pig Club

The history of the Guinea Pig Club, the band of airmen who were seriously burned in aeroplane fires, is a truly inspiring, spine-tingling tale. Plastic surgery was in its infancy before WW2. The most rudimentary techniques were only known to a few surgeons worldwide. The Allies were tremendously fortunate in having the maverick surgeon Archibald McIndoe – nicknamed 'the Boss' or 'the Maestro' – operating at a small hospital in East Grinstead in the south of England. McIndoe constructed a medical infrastructure from scratch. After arguing with his superiors, he set up a revolutionary new treatment regime. Uniquely concerned with the social environment, or 'holistic care', McIndoe also enlisted the help of the local civilian population. He rightly secured his group of patients – dubbed the Guinea Pig Club – an honoured place in society as heroes of Britain's war.

For the first time official records have been used to explain fully how and why this remarkable relationship developed between the Guinea Pig Club, the RAF and the Home Front. First-person recollections bring to life the heroism of the airmen with incredible clarity.
© Pen and Sword Books Limited 2016. Registered in England No. 2527258
Registered Office: 47 Church Street, Barnsley, S70 2AS.