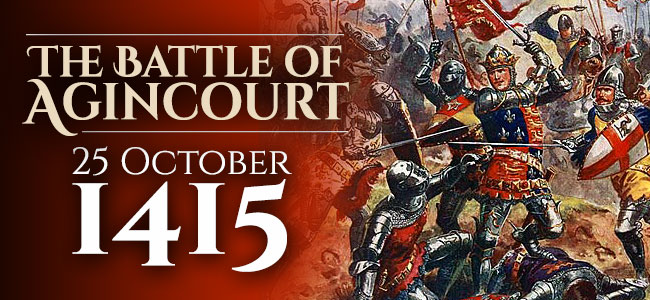 Agincourt: selected titles
Agincourt
Agincourt 1415
Agincourt Myth and Reality 1415-2015
The Agincourt War

Our Price
£12.99

Our Price
£14.99

Our Price
£19.99

Our Price
£14.99
100 Years War: Crecy 1346
100 Years War: Agincourt 1415
100 Years War: Poitiers 1356

Our Price
£9.99
RRP:

£16.99


Our Price
£9.99
RRP:

£16.99


Our Price
£16.99
The American Sharpe
RAF and the SOE
Flight Craft 11: English Electric Lightning

Our Price
£20.00
RRP:

£25.00


Our Price
£15.99
RRP:

£25.00


Our Price
£13.50
RRP:

£16.99

Real War Horses
Battleships of the World
From Journey's End to The Dam Busters

Our Price
£20.00
RRP:

£25.00


Our Price
£15.99
RRP:

£19.99


Our Price
£20.00
RRP:

£25.00

The Urie and Maunsell Cylinder 4-6-0s
ShipCraft 24: Japanese Battleships: Fuso & Ise Classes
Hook Up!

Our Price
£24.00
RRP:

£30.00


Our Price
£11.99
RRP:

£14.99


Our Price
£28.00
RRP:

£35.00
In the spotlight: The Life and Ship Models of Norman Ough

Our Price
£20.00
RRP:

£25.00

Out now: The Life and Ship Models of Norman Ough (Seaforth Publishing).

Norman Ough is considered by many as simply the greatest ship modeller of the twentieth century and his exquisite drawings and meticulous models have come to be regarded as masterpieces of draughtsmanship, workmanship and realism; more than technically accomplished ship models, they are truly works of art. Earl Mountbatten had him model the ships he had served on; his model of HMS Queen Elizabeth was presented to Earl Beatty; film production companies commissioned models for effects in several films.

Incorporating many of his original articles from Model Maker Magazine, his detailed line drawings now kept in the Brunel Institute, and photographs of his models held in museums and at Mountbatten's house, this book presents an extraordinary level of practical information as well as an inspiring panorama of perhaps the most perfect warship models ever made; modelmakers, naval enthusiasts and historians will welcome his remarkable insights into the ships of the two World Wars.

© Pen and Sword Books Limited 2016. Registered in England No. 2527258
Registered Office: 47 Church Street, Barnsley, S70 2AS.